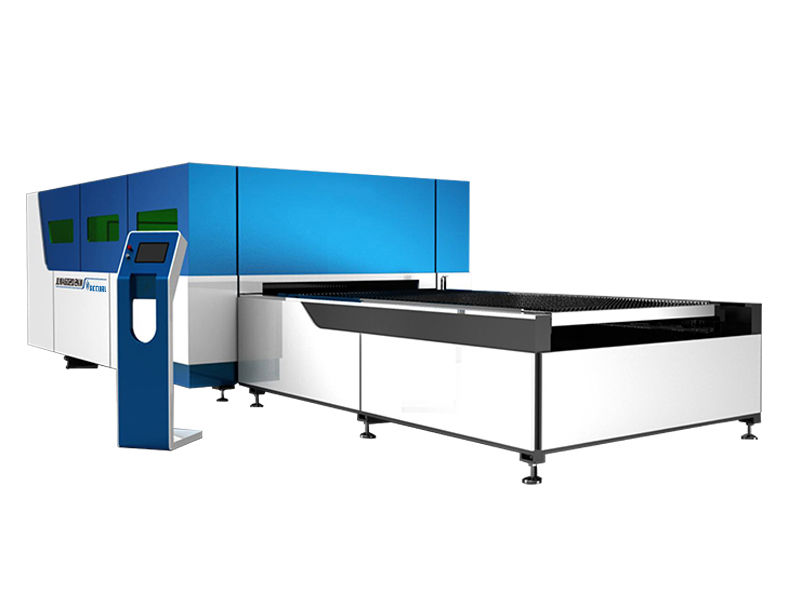 Dali nga mga Detalye
---
Aplikasyon: Pagputol sa Laser
Kahimtang: Bag-o
Type sa Laser: Fiber Laser
Naa'y magamit nga Materyal: metal
Cutting Thickness: According the material
Cutting Area: 1300x2500mm, 1500x3000mm, 1500x4000mm, 1500x6000mm
Cutting Speed: 0.5- 35 m/min
CNC o Dili: Oo
Pag-cooling mode: Pagpatugnaw sa tubig
Pagdumala sa Software: Cypcut
Gipaluyohan ang Format sa graphic: AI, BMP, DST, DWG, DXF, LAS, PLT
Certification: CE, SGS
Gihatag nga Human nga Pagbaligya nga Serbisyo: Ang mga inhenyero magamit sa makinarya sa serbisyo sa gawas sa nasud
Moving speed: 12m/min
Max. cutting speed: 8m/min
application materials: metal plate
Laser power: 500W 800w 1000W 2000W 3000W
Suplay sa kuryente: 380V / 50HZ
Driving system: gear and rack transmission
Cutting materials: Stainless Steel Carbon Steel Sheet
tube length: 3meter , 6 meter ...
Name: steel cutting machine price
---
1. Paggamit sa istraktura nga gantry ug integrated cast cross-girder aron makab-ot ang mas taas nga rigidity, stabilidad, resistensya sa shock.
2. High-performance laser source and stable operating systemwhich make the best cutting effect.
3. Ang makina adunay tag-iya nga hingpit nga sistema sa paglamig, lubrication system ug sistema sa pagtangtang sa abug, aron masiguro kana
mahimo kini nga molihok sa stest, episyente ug durable.
4. Ang makina makahimo sa awtomatikong pag-adjust sa gitas-on aron mapadayon ang kanunay nga focal length ug lig-on nga kalidad sa pagputol.
5. The machine is used for cutting a variety of metalswith excellent and stable cutting quality.
6. Ang espesyalista nga CAD / CAM awtomatikong software software ug awtomatikong software sa pag-pugad sa katuyoan nga mapadayon ang pagtipig sa hilaw nga materyales.
7. Ang pag-access sa sistema sa CNC pinaagi sa Ethernet interface nga naghimo sa komunikasyon ug hilit nga monitoring nga posible sa panahon sa proseso sa pagputol sa laser.
NO.2 Machine Application Field
---
1.Application Materyal: Ang Fiber Laser Cutting Equipment angay alang sa pagputol sa metal nga adunay Stainless Steel Sheet, Mild Steel Plate, Carbon Steel Sheet, Alloy Steel Plate, Spring Steel Sheet, Iron Plate, Galvanized Iron, Galvanized Sheet, Aluminium Plate, Copper Sheet. Mga Brass Sheet, Plato sa Bronze, Plato sa Bulawan, Plato sa Pilak, Plato sa Titanium, Plano sa metal, Plato sa metal, Mga tubo ug Pipa, ug uban pa
2.Application Industries: Fiber Laser Cutting Machines are widely used in manufacturing Billboard, Advertising, Signs, Signage, Metal Letters, LED Letters, Kitchen Ware, Advertising Letters, Sheet Metal Processing, Metals Components and Parts, Ironware, Chassis, Racks & Cabinets Processing, Metal Crafts, Metal Art Ware, Elevator Panel Cutting, Hardware, Auto Parts, Glasses Frame, Electronic Parts, Nameplates, etc.
Our Factory And Quality Control
---
Quality is our paramount mission that underpinning the lifeline of the company, and it is the most important factor to maintain long-term business relationships with customers. Special attention is paid to the quality of every unit of ACCURL laser cutting machine. Standard quality control system and team are responsible to insure the product quality in every process with different instruments like laser interferometer and laser power meter. The laser interferometer and laser collimator are used through the mechanical assembling process. In the laser assembling process, the laser power meter and optical microscope are adopted.
Packaging & Shipping & Payment
---
1)Packaging:  Whole film packaging machine; anti-collision package edge; fumigation-free plywood wooden box and pallets with iron binding belt.
2)Shipping:  We cooperate with SINOTRANS company whose experience in the ocean transportation will guarantee your machine safety. We also provide train transport, especially to Russia, Ukraine and other inland countries.
3)Payment: We support T/T, L/C, VISA, Mastercard payment terms with Alibaba Trade Assurance.
Garantiya ug Serbisyo
---
1.Guarantee for 3 years. 2. Maintenance free of charge for 3 years .
3. Mohatag kami sa mga magamit nga mga bahin sa presyo sa ahensya.
4.24 oras nga serbisyo sa online, libre nga teknikal nga suporta.
Ang 5.Machine nabag-o sa wala pa ang pagdala, ang diskohan nga diskarga nahilakip sa paghatud. Kung adunay bisan unsa nga lain nga mga pangutana, malulotong isulti kanako.
6. Kami adunay manual nga panudlo ug CD (Mga Giya sa mga Video) alang sa Pag-install sa software, operasyon ug paggamit ug pagmentinar sa makina.
labing maayo nga cnc laser cutting machine
,
cnc metal nga laser pagputol sa presyo sa makina