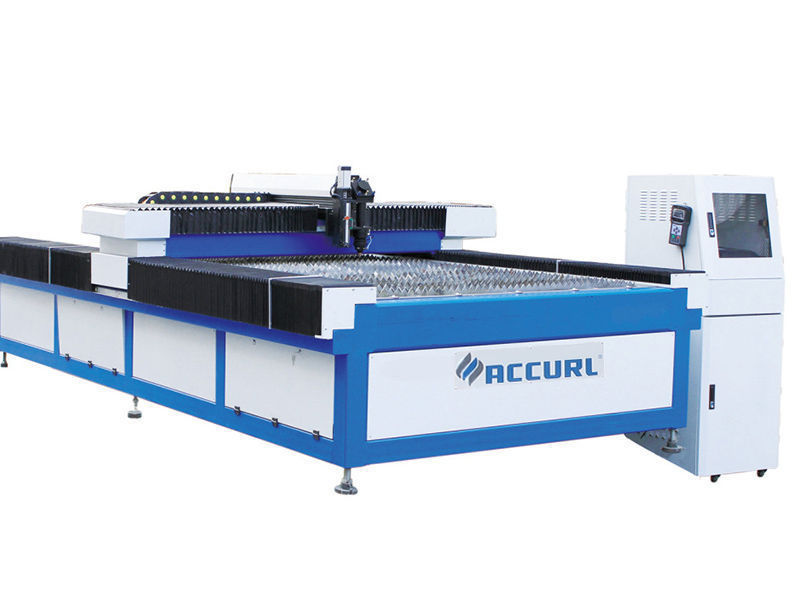 ---
1) The bed lathe is welded with thick wall cast steel tube, and it is quenched before welding so to eliminate innerstress, so the work tabe is quite strong, stable and durable, nondeformable, and high rigidity.
2) Gantry style structure, Y axis equipped with double stepper driven motors, more powerful.
3)X Y Z axis are equipped with Hiwin square linear guideway made in Taiwan.
4) X, Y axis tilt rack and pinion, gear drive. The tilt rack and pinion is higher accuracy and smaller noise than the stright type. Z axis is driven by cylinder.
5) Well softwares compatibility, such as Type3 / Artcam / FastCAM/ Ucancam V9 etc CAD/CAM software are all compatible.
6) Legal version Start CNC control system with Automatic capacitance-height controller and automatic arc-height controller.
7) Equipped with Hypertherm Powermax105 plasma generator made in USA. (The detailed technical specification of Powermax105 plasma generator, please refer to the appendix.)
Dali nga mga Detalye
---
Kahimtang: Bag-o
Numero sa Modelo: 1500*4000 plasma plate cutting machine
Boltahe: 220v / 380v / 110v
Gilaraw nga Gahum: 3KW
Ang sukod (L * W * H): 4800 * 2300 * 1350
Weight: 1200 kg
Sertipikasyon: KP ISO
Garantiya: 2 ka tuig
Gihatag nga Human nga Pagbaligya nga Serbisyo: Ang mga inhenyero magamit sa makinarya sa serbisyo sa gawas sa nasud
Product name: plasma plate cutting machine
Ang sistema sa pagpugong: SF-2012AH - Beijing
Ang gibag-on sa pagputol: 0-3 mm
lugar sa pagputol: 1500 * 40000
Katulin sa pagputol: 0-8000mm / min
Plasma karon: 63 A
Ang mode sa pagbalhin sa file: USB
Peicision: 0,05 mm
Ang sukod: 4800 * 2300 * 1350 mm
FAQ
---
How about your machine quality? We are worry about the quality.
RE:  ACCURL is a mature brand in CHINA,through our 19 years research in technology,our design including structure and detailed security and precision has enhanced greatly,and can match all the CE standard or more strict standard.Our machines distribute worldwide to about 50 countries where there are metal plate industry ,there are Brillante machines.And where there are our machines,there are good reputation and terminal user satisfaction.
Whether the machine price can be more discount?
RE:  1.ACCURL always provide high quality machine,as we know ,oversea market is more important and difficult than domestic market because of communication time costing after sales,So always,our machine has enough qaulity standard to make sure the machine can work more than the real warranty period.In this way ,we will save a lot and think in advance for the clients.
RE:  2. we are sure to provide quality=price and price=quality ,the matched price and acceptable for the clients and durable for our machines.We welcome your negotiate with us and get a good satisfaction.
cnc pipe cutting machine
,
gamay nga cnc nga pagputol sa plasma nga cnc
,
square tube cutting machine
,
lamesa nga pagputol sa makina sa plasma